RAC Cafe & Bar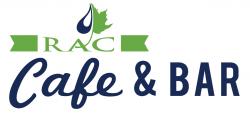 The RAC Cafe & Bar is a great place to drink, snack, and relax before or after your workout, or enjoy a cup of coffee or beer with friends. Our team will help you find the perfect option to fuel your body and please your palette. Whether it's a protein shake, healthy salad, or even a fresh item from our bakery, we have a wide array of items from which to choose. We take great pride in providing vegan, gluten-free, and paleo options to accommodate all of our guests. The cafe's full bar offers draft beers, a varied selection of wine, premium mixed drinks, and our specialty frozen fruit margaritas. We hope to serve you soon!
*Open to RAC members as well as the Fort Collins community!
RAC Cafe & Bar Hours:
Monday-Friday: 7:30am – 8:00pm
Saturday: 7:30am – 12:00pm
Sunday: CLOSED
Happy Hour Specials:
Monday – Friday, 2:00 – 7:00pm
All Beer & Wine – 25% OFF!
All Cocktails – 10% OFF!
Featured Menu Items:
Whole Grain Wraps – grilled or cold
BKT: bacon, baby kale, tomato, pesto mayo
Chicken Caprese: chicken, tomato, mozzarella, pesto mayo