Personal Training
We believe personal training is our opportunity to empower you physically and mentally along your personal wellness journey.
Our trainers COMMIT:
to be professional & provide a non-intimidating environment
to motivate and support
to create individualized and innovative programs
to teach proper technique and ensure safety
to keep you accountable
For more information about personal training at the RAC contact a trainer or you can schedule your training session online.
How to Set Up & Use Popular Strength Machines
Watch as RAC Personal Trainer Marissa White leads you through a few popular machines at the club. See how to set up and properly use each machine to get the most from your workout.
Personal Training Pricing
Get the individual attention you need to reach your goals. A certified personal trainer will focus on YOUR needs and create a fitness plan tailored to YOUR body.
Single Session:
1st Time Client Special: 3 Full Sessions for $135
Half Session: $45
Full Session: $60
Packages:
Half Sessions:
8 Pack: $300
16 Pack: $520
Full Sessions:
6 Pack: $330
12 Pack: $600**
24 Pack: $1080***
**RAC Members can divide this package into two payments. ***RAC Members can divide this package into three payments.
When scheduling your session(s), please allow 24 hours prior to appointment when booking. We ask that all sessions be canceled at least 24 hours prior to the scheduled appointment time. If 24 hour notice is not given, you may be charged for your session.
Group Training Pricing
Do you enjoy working out with friends? Whether a group of 2 or 4, our trainers will create a workout to suit everyone's needs while reaching for goals together. Form a group and reach out to the trainer of your choice to get started.
Full Sessions:
Group Of 2 or More: $40/session per person
*Not a RAC Member? Not a problem. We offer non-member rates for individual and group training sessions. Please contact training@raintreeathleticclub.com for complete rates and details.
Personal Training Programs
Balance For Life with Tracy Ibarra
Join Certified Personal Trainer Tracy Ibarra for this 6 week group training series focusing on exercises to maintain and enhance balance for stability in adults. Class held in the Enlighten Studio.
6 Sessions,  $35/members, $45/non-members. Session options:
Mondays 9:15 – 10:00am, February 27 – April 3
Purchase at the Front Desk and reserver your spot online via BOOK IT NOW under the WORKSHOPS tab. For additional information contact Tracy at t.ibarra86@gmail.com. No make ups or refunds for missed classes.
Running Form with Ashley Foos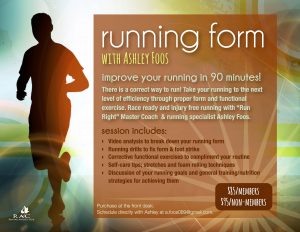 Improve your running in 90 minutes! There is a correct way to run! Take your running to the next level of efficiency through proper form and functional exercise. Race ready and injury free running with "Run Right" Master Coach  & running specialist Ashley Foos.
Session includes:
Video analysis to break down your running form

Running drills to fix form & foot strike

Corrective functional exercises to compliment your routine

Self-care tips; stretches and foam rolling techniques

Discussion of your running goals and general training/nutrition strategies for achieving them
1 90 Minute Sessions: $85/members, $95/non-members
Purchase at the front desk. Schedule directly with Ashley at a.foos089@gmail.com.
Body After Baby – Mom Fitness Training
Join Personal Trainer Michelle Tucker for 1-0n-1 personal training sessions to gain strength and increase your fitness level after having children. What's your goal? Lets find it and achieve it together. We can tone your core, increase overall strength, and increase your endurance levels to chase that baby around the house.
12 Full Sessions: $600/members, $720/non-members
Purchase at the front desk and book your sessions online via BOOK IT NOW.  For more information contact Michelle at michelletuckerpt@gmail.com.
Functional Movement Screen (FMS)
A 30 minute assessment with a RAC Certified Personal Trainer, Justin Kerley, Ashley Talebi, or Marissa White. The Functional Movement Screen is a series of measured movements to determine clients' strengths and weaknesses. Client is given a score to determine the risk of injury and measure the strength of their foundation.
1 (30 min) Session: $20/members
Purchase at the front desk and book online via BOOK IT NOW under PERSONAL TRAINING & select "FMS". For more information email training@raintreeathleticclub.com.
Our Trainers