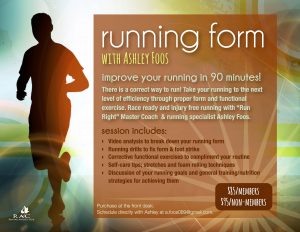 Improve your running in 90 minutes! There is a correct way to run! Take your running to the next level of efficiency through proper form and functional exercise. Race ready and injury free running with "Run Right" Master Coach  & running specialist Ashley Foos.
Session includes:
Video analysis to break down your running form

Running drills to fix form & foot strike

Corrective functional exercises to compliment your routine

Self-care tips; stretches and foam rolling techniques

Discussion of your running goals and general training/nutrition strategies for achieving them
1 (90 Minute) Session: $85/members, $95/non-members
Purchase at the front desk. Schedule directly with Ashley at a.foos089@gmail.com.